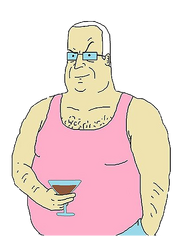 Welcome to the official Big Lez Show Wiki
Edit
Welcome, ya fucken druggos time to have some skitz adventures.
This is the one and only place for you lot to find out information about The Big Lez Show, created by Australians Jarrad Wright, Izak Whear & Tom Hollis, the series outlines the adventures of Leslie Mackerel.
The Big Lez Show Official Website: http://thebiglezshow.com/ [link dead]
The Big Lez Show YouTube Channel: http://youtube.com/guitarfingerz2112
The Big Lez Show Facebook Page: https://facebook.com/TheBigLezShow
The Big Lez Show Twitter Page: https://twitter.com/_thebiglezshow
The Big Lez Show Subreddit: https://reddit.com/r/TheBigLezShow/
The Big Lez Show Forums: http://tbls.boards.net
Latest activity
Edit
Ad blocker interference detected!
Wikia is a free-to-use site that makes money from advertising. We have a modified experience for viewers using ad blockers

Wikia is not accessible if you've made further modifications. Remove the custom ad blocker rule(s) and the page will load as expected.